In this blind test, we compared the budget-friendly Peluso VTB vs the legendary Sony C800G. 
The Sony C800g PAC is one of the most well-respected microphones in the world (and also one of the most expensive.) About 9 years ago, John Peluso of Peluso Microphone Labs created the Peluso VTB (Vacuum Tube Bottle) with the sound of the Sony C800g in mind. While they are not exactly the same, these two microphones do have some striking similarities, and we wanted to put them to the challenge in this vocal microphone comparison test. We tracked both mics through an Avalon AD2022 Preamplifier, and with the help of an amazing vocalist, the Raleigh-born singer-songwriter Jeanne Jolly.   
One thing is for sure, we liked the sound of the Peluso VTB a lot, particularly given its affordable price tag. But there is clearly very little you can question about the uniquely great sound of the legendary Sony C800g,  a microphone that continues to be a favorite choice on pop and hip-hop vocal recordings, all over the world.
While the Peluso VTB was cosmetically inspired by the classic early German "Bottle" microphones, it is actually sonically akin to something much more modern. In many situations it is virtually indistinguishable from the Sony C800 (see the Frequency Response Curve here below).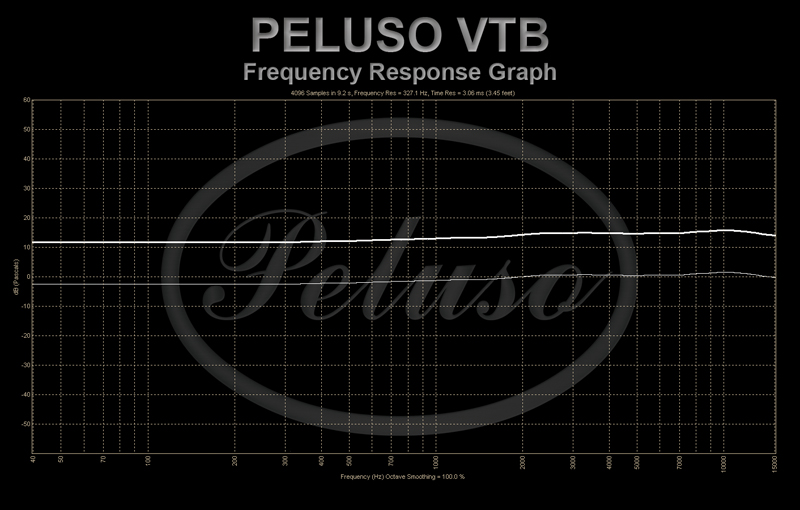 The Peluso VTB exhibits a very big high-frequency emphasis to give the singer the "air" on the top end. It is a mic designed primarily for vocals, but can be used in the studio for instruments where you are looking for a top-end emphasis.
How Does Budget-Friendly Peluso VTB Microphone Sound Vs Sony C800G?
Did you listen to the blind test? Can you tell which mic is which?
Once you're ready for the answers, shoot us an email at shootoutresults@soundpure.com, or give us a call at (919) 682-5552 (you can also reach out to us on Facebook).
Our gear is available for our Try Before You Buy demo program, so you can do some testing for yourself with no obligation to purchase.
Why Do We Do Our Shootouts Blind?
Good question! In our own experience as recording engineers and musicians, we've found we have unconscious biases that favor one microphone, preamp, instrument, etc. over another based merely on preconceptions and brand associations. We're often surprised at the results and want to present that same unbiased listening opportunity for you.
Also, we hope you request the hi-res files, because YouTube compression affects the audio considerably. And, last but not least, we want to help you purchase the right gear for your exact needs and setup. This is a shootout on one specific recording application, and it can give you some great info, but the devil is in the details! We specialize in the details and are here to assist you with your choice.