Looking for a high-quality preamp that is reasonably priced? The Phoenix DRS-8 is exactly what you've been looking for. With a Class A design, this 8-channel microphone preamplifier has a discrete, truly balanced, and transformerless input stage that was designed to produce a "valve-like" sound. You can go from clean to a colored and more saturated sound, and if desired, add some nice distortion as well.
Phoenix Audio based this preamp on their first unit, the DRS2. Combining information from over 40 years of experience in designing Class A circuitry, as well as new and improved technology, the DRS-8 was created to be a high build-quality piece of equipment for professional use, or even a home studio environment.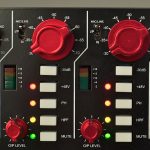 The DRS-8 includes many specifications that make it easier to use while still receiving quality sound. The gain on the mic input ranges from -30 to -70 in 5dB steps, with 10dB more available on the fader, and each channel has its own LED metering with hysteresis. It also has phantom power, a high-pass filter, phase reverse, mute, and a mic/line button allowing the flexibility of input levels. The section on the right has a headphone plug-in where you can monitor the levels of each channel.
This Phoenix Audio preamp is one of our favorites here at Sound Pure. We have used it on many sessions for all types of genres. We have videos of the DRS-8 on acoustic and electric guitar, drums, and other applications. Be sure to visit our YouTube channel for videos on the Phoenix DRS-8 and more!