In this episode of Gear Tips, Sound Pure drums specialist Paul Spencer Demonstrates how to turn a 14 or 16-inch hanging tom into a floor tom by using a WoldMax Floor Tom Support System.
A lot of times, it is an issue to turn your 14-16in hanging tom into a floor tom because the drum does not have brackets drilled into the shell. We tend to see this problem with kits from the 70's, 80's, and sometimes the 90's. These kits typically have 14-16in mounted toms or toms that are drilled for an L-rod. If you want to turn these into floor toms without drilling brackets into your shell, then the WolrdMax Floor Tom Support System could give you the flexibility that you're searching for.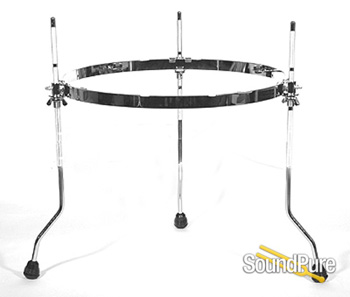 WorldMax DSS1414F 14″ Floor Tom Support System w/ Legs 
The WorldMax Floor Tom Support System is designed for 14-16in toms with 8 lugs. To install the system, you will have to take off the resonate head and the bottom hoop of the drum. Next step is to align the rim up with 4 of the lugs of your tension rods. The system itself is a circular rim that has four support brackets with rubber grommets. These grommets are placed around four of your tom's lug inserts, and the support brackets rest on these grommets. After that, you replace the head, rim, and tension rods to the tom. Finally, attach the included floor tom legs with a wing nut and standard drum key bolt, flip it over and you are ready to rock.
WorldMax does offer these in several colors so if you have a special request or have any other questions, please give us a call!