John Buscarino is a luthier's luthier, a true master craftsman and artist whose guitars are as beautiful as they are playable and pleasing to listen to. He is a rare builder who can create a truly exceptional nylon string, steel-string flat top, or archtop, having apprenticed with both Augustine LoPrinzi and Bob Benedetto on the road to becoming fluent in several guitar-building paradigms. Now, after 20 years as an independent craftsman, it's time for a celebration!
This Buscarino 20th Anniversary Virtuoso is my idea of a jazz guitar. Retaining many of the Art Deco touchstones of the classic archtop designs of the early 20th century, but with a late 20th-century disdain for plastic, it manages to look current and timeless at the same time. As John's self-described "crown jewel" in the archtop line, the Virtuoso always features wood choices intended to stun, with European cello woods for the major parts and elegant burl veneer on the peghead. Looking at this 20th Anniversary model, one immediately notices a difference, an understated yet profound "je ne sais quoi." Wait, what exactly is that fingerboard? Is there such a thing as birdseye brazilian? Quilted cocobolo? Blister bocote? What is that wood?
That wood, friends, is snakewood, one of the rarest, hardest, most expensive, and most beautiful woods on Earth. With a tap tone like a windowpane, there is nothing to prevent the transmission of your every finger-flick to the relevant tone-producing parts of the guitar. If it weren't so hard to find in guitar component sizes, you would certainly see more of it. Want to see more of it right now? Take a stroll around this Buscarino; the more you look, the more you'll see. Fingerboard, bridge (housing a Barbera pickup), tailpiece, finger-rest, tuner buttons… is there anywhere else John could have put some snakewood? Incredibly, yes – the pickup cover. John's Buscarino signature floating pickup is entirely ensconced in snakewood. What a look, and what a sound.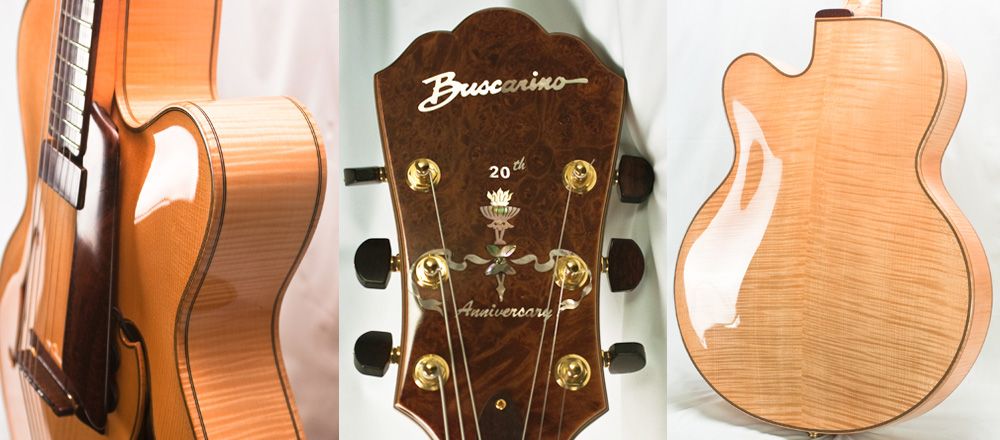 A 17″ archtop with a 25″ scale and 1-3/4″ nut, this guitar is a wonderful mix of L-5 orchestra-guitar volume and ES-175 playability. Acoustically, it can chunk out all the Freddie Green you'd care to comp, or translate every Mixolydian flat-13 nuance that a fingerstyle jazzer could imply. Plugged in, the dual-source pickup system lets you shade your amplified tone either way. The slim neck fits the hand like a kidskin driving glove, the fretwork is impeccable, and the action is super consistent up and down the neck. Simply put, there is absolutely nothing standing between you and effortless musical expression.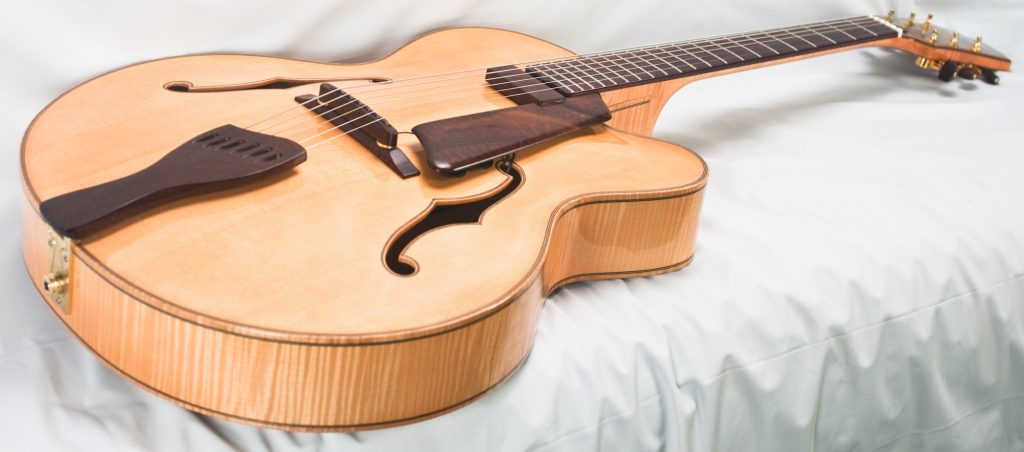 We all love a pretty guitar, and we're all looking for "that sound." How often do both turn up at once? When the builder is John Buscarino, I'd say it's every singe time he picks up a chisel.
Hats off to you, John. This guitar is a world-beater.
– Rob Sharer, Sound Pure Luthier
(We now have a pre-owned Buscarino 20th Anniversary Virtuoso in excellent shape at our shop… give us a call for details! 919.794.7977)