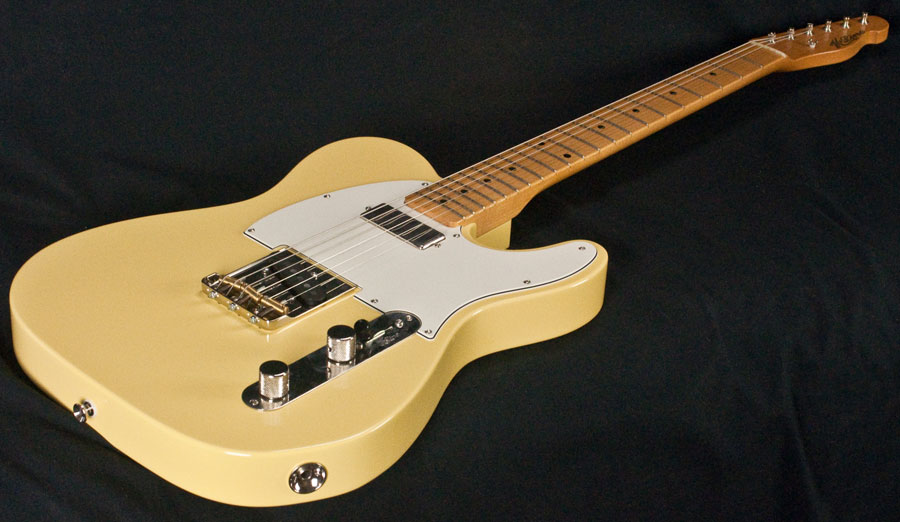 I've had the privilege of playing many of the world's best boutique guitars over the past few years. Guitars that speak to me are at my fingertips. Literally. You know the type of guitar I'm talking about. You put it in your hands, play a few of your favorite riffs, stop, realize you just played those riffs smoother than you ever have, and it felt effortless. Try some more material, and realize this guitar is so effortless and inspiring to play, you just have to keep playing. You might say, "this guitar makes me play better!" While this experience is common with guitars at Sound Pure, I feel it's integral that I share my love for the K-Line Truxton as the best in its category of vintage-inspired "T" style guitars. The very first K-Line I fell in love with was the Truxton. Lightweight at about 7 to 7.4 lbs on average, slightly oversized neck carve when compared to the common Medium "C" profile, which adds some beef to your tone, vintage tone with modern reliability from the Lollar pickups, and thin skin nitro lacquer for ultimate breathability and genuine vintage aesthetics. For those who know what all that means, you know that's the right formula! For those who don't, you'll soon find out why that's what makes a great vintage-inspired, hand-crafted electric guitar!
All K-Line Guitars are hand-made by Chris Kroenlein in St. Louis, Missouri. They are priced way better than custom shop offerings from major brands, making these ultimately desirable for the vintage guitar or custom guitar enthusiast without breakin' the bank!
I've had the pleasure of playing both the Springfield (strat-style) and San Bernadino (Jazzmaster-style) guitars in demo videos at SoundPure Studios, with the aid of the amazing Victoria 45410 amp, the Moog MF-104M Analog Delay, and the Flickinger Higher Gain Angry Sparrow pedal. Email me for high res sound files from those studio sessions if you would like a closer listen to K-Line Guitars, how they actually get used. Not just a solo guitar demo. An actual band setting! It's amazing how many solo guitar demo videos there are out there. While that shows the fine details, the reality is, you'll most likely use electric guitars in a band, or at least I would hope you would!
In addition to "F"-style guitars, Chris recently introduced a series of set-neck models in single- and double-cut varieties with rockin' Lollar P90s and ridiculously comfy fretwork. I'm really hyped on the single-cut version! There are a variety of configurations available to suit the individual player's needs. These are bare-bones rockers, and I'm all about it!
All K-Line needs to fill out the line-up of hand-crafted classics would be a maple-top, LP-style guitar and maybe a semi-hollow. For now, we're enamored with enough variety to last nearly a lifetime. And with custom neck carves and other custom features available, there's more than enough to work with to get you exactly what you want from a boutique guitar company you can really connect with. And by connect with, I don't just mean with the guitar. You can call Chris and chat about his guitars. Don't bug him too often though! Let him build your dang guitar!
-Ross Gruet