If you're looking for a rare, one-of-a-kind Brazilian rosewood acoustic guitar that sounds, looks, and feels amazing, we have just what you've been searching for! The McPherson 4.5XPH is made with a hybrid top, combining highly figured redwood and Adirondack red spruce. Brazilian rosewood is used for the back and sides and is thought of by many as the best tonewood to use for steel-stringed instruments. The 4.5XPH has a UV finish, which acts as a clear, durable protector from harmful elements.
This stunning piece of work from McPherson catches your eye immediately. The grain of the Brazilian rosewood on the back of this 4.5XPH model is some of the most incredible Brazilian rosewood we have ever seen. The tone is nothing short of amazing, and notes sustain much longer than a traditional acoustic guitar, thanks to the cantilevered neck design that floats off the top of the body.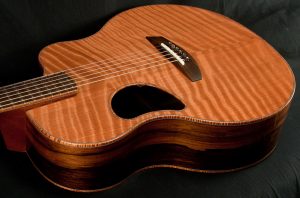 The hybrid top works well by giving the instrument clarity and projection from the Adirondack red spruce, while adding warmth and character from the redwood. The Brazilian rosewood adds rich and powerful sound, giving your ears a beautiful feeling full of overtones and depth.
Brazilian rosewood is endangered and becoming very rare, which means this McPherson acoustic will always appreciate in value, making this guitar a true investment. There are many more reasons why McPherson Guitars are some of the most advanced acoustic guitars on the market. Call us today and have us answer any questions you may have!