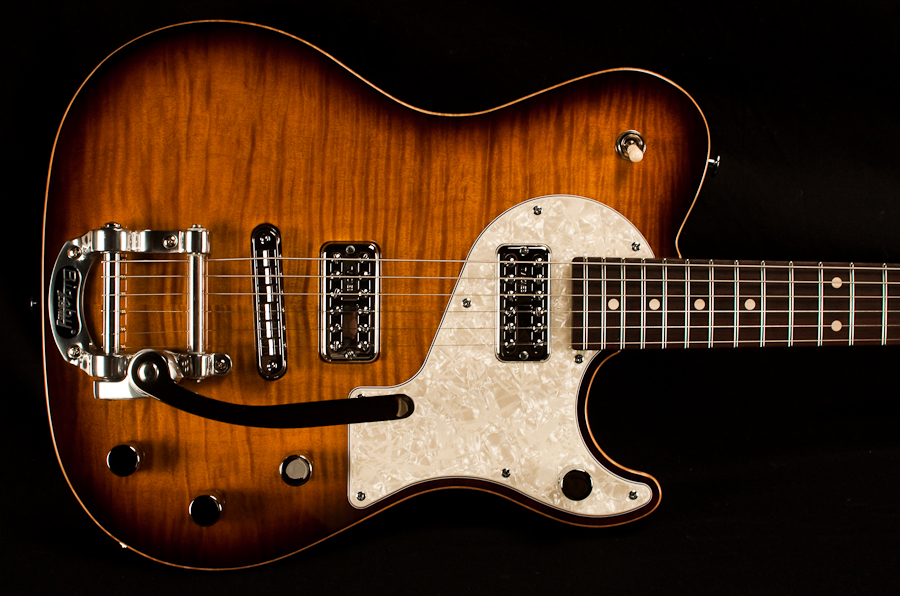 There are so many brands of guitars out there, it's hard to keep track of them all.  Most people know of the major brands like Gibson, Fender, Martin, and Taylor.  Then there's the world of boutique guitars with some of the more popular choices being Collings, Santa Cruz, Suhr, and Anderson.  A boutique guitar company that we feel deserves just as much recognition is Melancon Guitars.
Gerard Melancon brings new meaning to "smooth guitars."  The stainless frets are silky smooth and cater to a variety of playing styles. Necks and bodies are hand-crafted, and they even use their own custom pickups in most models. Alternatives are the TV Jones pickups used in one of the most popular models, the Cajun Gentleman.
The Cajun is a stand-out piece. It combines traits of classic teles and Gretsch guitars.  T-shape and size, tone-chambered body, with Gretsch layout in pickups (TV Jones Filtertrons), Bigsby tremolo bridge and knob arrangement. Add a flame top and pearl pickguard and you have a real looker and player in your hands!
Some guitarists think that boutique brands are overpriced or that they are out of reach to those looking for a great guitar. Many players would be surprised if they looked into pricing on Melancon as they are producing some of the best-playing guitars out there.  While major brands pump out signature models and special editions that cost two to five times as much as an average guitar, there are amazing independent guitar builders that will create a guitar with custom specs just the way you want for a lot less than you may think! Melancon is definitely one of the best.