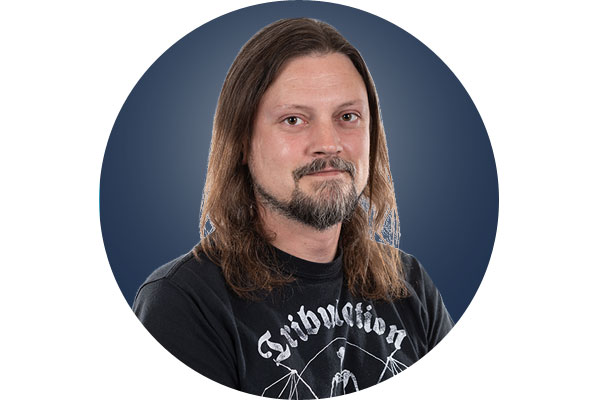 Ted G.
Pro Audio Specialist
Direct Line: (919) 883-5867
When did you first start playing music?
My parents bought me a cheap Strat copy, a combo amp, and a distortion pedal for my 15th birthday, though I vaguely recall taking piano lessons for a little while in elementary school too. I remember at least attempting to write my own music within months of starting with the piano lessons, and I've played in bands since I was 15.
What gear is in your current rig?
I mainly play through Mesa amps, and my guitar collection is ever-growing. My favorite piece of gear that I use every time I record guitars is my Two Notes Torpedo Reload, and I've recently upgraded my monitors to a pair from Focal. I also have a growing collection of effects pedals, as I am an absolute tone-chaser!
.
What's on your wish list? What gear are you loving right now?
I'd love to eventually add a Sebatron VMPQuadPlus, a BAE 1073D, and a Serpent Audio Chimera to my setup, and I'm planning to upgrade to an X-Series Apollo very soon.
What is your favorite genre of music?
I'm all over the map when it comes to my musical preferences. I listen to a lot of different things, from crazy crazy metal, to R&B/soul, to hip hop, to '80s pop, and more.
Which records have changed your life?  
Metallica's "Ride the Lightning," and Run DMC's "Raising Hell" were definitely major influences on me. 
What's on your "turntable" right now?
 Charles Bradley "Victim of Love."
Ted's Recent Customer Reviews
"Although I wasn't able to get a deal done on a used guitar that I wanted (another customer beat me to it), the level of customer service here is second to none. Particularly, Ted. He and I communicated for days via email, as this would have been an online purchase, and displayed a high level of commitment to his customer. Ted's response time to all of my queries was quick. He looked into the status of the guitar I was after, even over the weekend when he isn't scheduled to work. Not to mention, he genuinely seemed upset that I wasn't able to get that guitar. If something else comes up, I'll definitely be reaching out to Ted again!"
"Excellent experience. Ted was very helpful and was great about communicating with me every step of the way. I will be a returning customer!"
"I just completed my first purchase with SoundPure and I am extremely happy with the high level of customer service I experienced. Ted in Pro Audio took great care of me – having to deal with some details on a back-ordered microphone I recently ordered online. Personalized attention, care, and professionalism are what impressed me the most – and I will absolutely be back for my next purchase. THANK YOU!!!"
"Great customer service! Thank you Ted for helping us to find the mics that fit our needs."
"Went in to get started setting up a home recording studio and Ted took the time to explain every piece of equipment I would need, in detail. Never felt pressured into buying anything and I feel confident that I could walk in there anytime, just to ask questions, and I would still receive phenomenal customer service. I'm thoroughly enjoying my purchases (shout out to Ted for knowing exactly what I needed) and will be a life-long customer!"