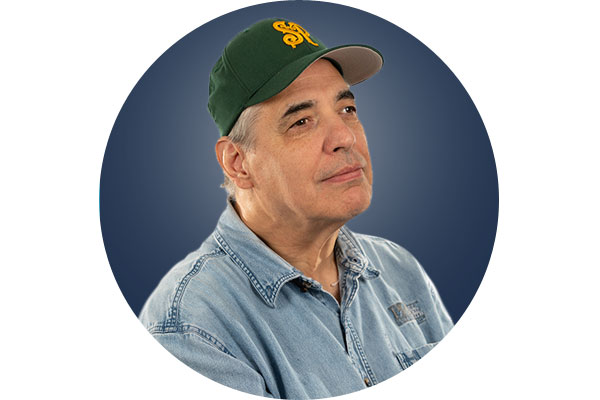 Eddie Berman 
Guitar Specialist
Direct Line: (919) 877-0998
When did you first start playing music?
I've been playing for 52 years and teaching for over 30. I emphasize knowledge of the fingerboard, theory, and economy of motion with my students.
Bands or projects, now or in the past?
Through the mid-'90s, I played in regional bands in Virginia and North Carolina. I've also performed live with Grammy winner Mike Farris, as well as with Kirk Ridge, Jimmy's Arcade, and my own group called Your Boy. My playing credits include a Pete Maravich documentary called "The Pistol: The Birth of a Legend" (Film, 1991), CBS' "Schoolbreak Special" (TV Series), "The 700 Club" (TV Series); "The Tonight Show" (backing tracks for comedian Fred Travalena), "Glorius Horizons" by Dana Catherine, The Virginia Beach Symphony, and more.
What gear is in your current rig?
Right now my collection includes a Tuttle, an Anderson, and a Suhr guitar. My rig also consists of a Carr Sportsman amp and XTS pedals.
What's on your wish list?
My personal wish list includes an Anderson Raven Classic and a Suhr Bella amplifier.
Who are your top musical influences?
I love all kinds of music and my main influences include BB King, The Allman Brothers Band, Larry Carlton, and Mike Landau.
What's a quirky or fun fact about you?
The quirky part is that I'm still doing this after all of these years! 🙂 Also, I'm self-taught (except for two lessons), and I've met most of my musical heroes.
Eddie's Recent Customer Reviews
"Ordered a bass from Eddie Berman, and the experience was flawless. I had a guitar that I sent them as a partial trade, and they handled everything efficiently and accurately. Rest assured you will be working with passionate people who know their stuff and won't steer you wrong!" 
"Great people and awesome staff. I have been dealing with Eddie Berman for a few years now with only great experiences. Perfect store." 
"Sound Pure is top notch. Thoughtfully curated inventory of boutique manufacturers and vintage guitars too. Always worth a visit and the folks are super welcoming and knowledgeable. Eddie is an absolute tone guru. He dials in amps like an art form. All-around excellent staff and well-run store. One of my favorites in the country."
"I have dealt with Eddie Berman for almost 20 years. I've purchased numerous wonderful Suhr guitars (and some others!) as well as some terrific amps. He has a terrific ear, and will put you in the right gear if you explain what you are looking for…wonderful! He is the best in the business that I've found, and he is a great guy too! I'd give more stars if they were available."
"The gents at Sound Pure are A-1 in their field, and honest, reliable people to deal with. Thanks Eddie & crew!"
"I love shopping and buying from Sound Pure. They have an incredible inventory of great guitars at a wide range of prices. Eddie and all the guys at Sound Pure are awesome, friendly, and know their stuff. Over the years, I've played many guitars there and have never been handed a guitar that was out of tune. Doesn't sound like much, but it's a big deal. I just got home from Sound Pure today, and I can't wait to visit again. 5+ stars!"