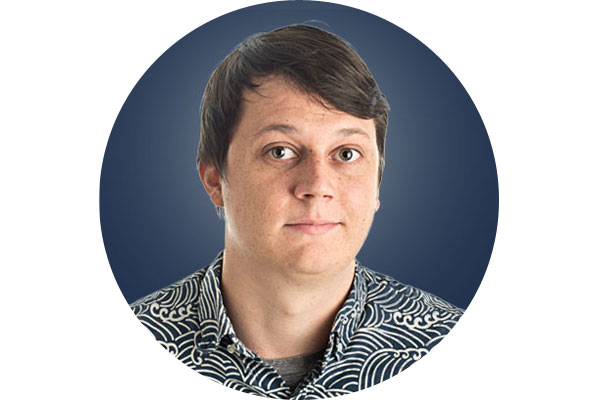 Chip Cannon
Pro Audio Administrator
Direct Line: (919) 883-5868
Where are you from originally?
Vanceboro, NC
When did you first start playing music?
I first started playing the guitar when I was 10 or 11 but never really got serious until later in high school.
How did you get into recording?
In college I started getting really into electric guitar and the world of "gear" associated with it. I started getting really obsessed with tone and preserving that tone through recordings. That led me to want to study it at my university, Appalachian State. Luckily, the program at App State is incredible and my professor, Scott Wynne, really took the time and energy to make that experience as detailed and well-rounded as possible. I discovered that audio engineering was more than just producing records or twisting knobs, it's an industry with hundreds of very different careers and opportunities for everyone.
What gear is in your current rig?
Currently, I'm tracking/mixing with a Focusrite Saffire Pro 40, sampling with a Roland SP-404sx, and playing a Samick Greg Bennett UM3 through a Vox AC15. Some of my favorite pedals on my board right now are the Cosmonaut by Matthews Effects, the SL Drive by Xotic, and my Memory Toy by EHX.
What's on your wish list?
I'm hoping to get into an interface by Universal Audio in the near future. I'd also like to begin expanding my mic locker, perhaps starting with an AKG C414 XLS, a D112, some Royers maybe, who knows!  
What records have changed your life?
"Animals" by Pink Floyd, "Drunk" by Thundercat, "An Awesome Wave" by Alt-J, and "Aja" by Steely Dan.
What are your passions and hobbies outside of music?
I enjoy playing basketball, soccer, and tennis. I also just like to take walks and spend time with friends and family.
Chip's Recent Customer Reviews
"Staff is super helpful and friendly through the chat feature on the website! Just spoke with Chip and he told me everything I needed to know. 10/10 would recommend."
"Sound Pure ROCKS, literally!! I'm always looking for solid advice on drums and pro audio level equipment and I can't thank Chip enough! Dude knows his stuff. Barry is also a drum wizard when it comes to in depth knowledge of quality drum gear! Sound Pure Audio is the place to go in the triangle for audio and gear expertise."
"Chip was super helpful in directing me towards what to look for in terms of keyboards and improving my sound quality. Thank you so much Chip!"
"Long story short I wanted to play the guitar (random thought one day),  and I didn't really know what direction I wanted to go sound wise. All I knew was that I wanted to re-articulate the sounds of Journey or Queen (by myself nonetheless, crazy inspired thought) so I did some research and gave them a call. Charles C. was my intel distributor. Deep down I knew that I wasn't on my way to the stage any time soon. However, I was def on my way amped, informed, did I mention informed, enthusiastically so, almost like I was in class over the phone, this guy knew his stuff, not a question unanswered. Call me a newbie but, they sure aren't."