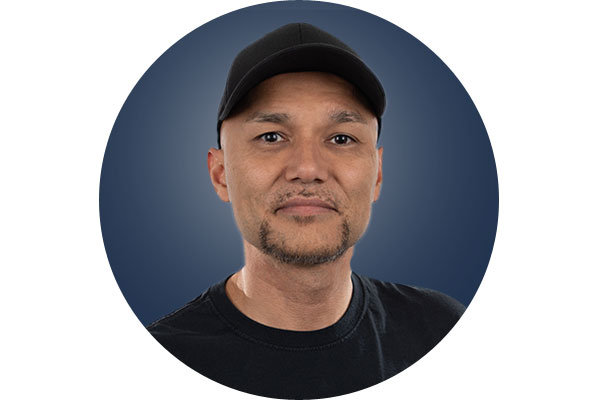 Barry Knain
Drums & Percussion Specialist
Direct Line: (919) 246-4289
When did you first start playing music?
I took piano lessons for about 3 years as a kid in San Jose, CA, and eventually dropped out because I hated the recitals. I bought my first drum set on my 16th birthday.
Favorite music, song, or band?  
ABBA to Zappa. I'm all over the board, but I usually gravitate towards heavy technical playing and fusion.
What gear is in your current rig?
Live rig: Pork Pie Custom Purple Slop – 9×10, 10×12, 12×14, 18×20 w/ a 6×13 Purpleheart Segmented Snare and a 6×10 maple snare. Depending on the venue, I may use a 6×13 Pork Pie heavy brass snare or a 7×13 custom Black Beauty knock-off.
Recording rig: Brady Jarrah Ply-Macassar Ebony Gloss – 8×10, 9×12, 14×14, 18×22. I usually use a Sonor 6×14 Artist Series Cottonwood snare or a Brady 7×13 Sheoak Block snare, but will also use a Black Beauty or Phosphor Bronze. Depending on the session, I use a mix of Sabian and Zildjian cymbals.
What's on your wish list?
Sonor SQ2 Medium Beech toms: 8×10, 9×12, 13×14, 14×16. Sonor SQ2 Heavy Beech kick and snare: 18×22 and 7×13.
Who are your top musical influences?
Deen Castronovo, Dave Weckl, Manu Katche, Neil Peart, Morgan Rose, and Scott Rockenfield have shaped much of my drumming vocabulary.
Which records have changed your life?
KISS "Alive," Rush "Moving Pictures," John Scofield "Pick Hits Live," Dave Weckl "Master Plan," Led Zeppelin "IV,"  Marty Friedman "Dragon's Kiss," Tony Macalpine "Maximum Security," Metallica "Master of Puppets," Forbidden "Twisted Into Form," and On The Virg "Serious Young Insects."
What's your least favorite thing to practice?
Anything with a tempo below 50 bpm.
Barry's Recent Customer Reviews
"I had an incredibly positive experience with Sound Pure and their drum tech, Barry Knain. I picked out the kit that I wanted and Barry provided an excellent price, but more importantly, amazing service. I wanted different heads, hardware, and cymbals and Barry asked the right questions to help me figure out the best configuration. I got the kit in exactly the time expected. It was well packed and the sound is amazing thanks to Barry's help. I can't recommend these guys enough!"
"Yesterday I received a new Craviotto solid shell snare drum in walnut with inlay after talking to Barry Knain just a few days prior. This was part of Sound Pure's "Try Before You Buy" program where you actually try out the gear you're considering purchasing "on approval". He had described the drum's features and its response and tone, had me watch a video, and sent me pictures.
Almost needless to say, the drum blew me away immediately. Incredibly beautiful craftsmanship and reeking of aesthetic beauty and quality visually, with an amazing gut and depth of tone, along with articulate precision. What a snare drum!
I called Barry back within 30 minutes of trying out the drum and told him to finalize the purchase. AND the price given to me was absolutely phenomenal for a Craviotto like this – a way better than competitive price!
So BIG shout out to Barry Knain! I am one happy guy. SoundPure is the place to go when it comes to drums, cymbals and all gear associated with drumming."
"Drums. Barry Knain provides always-professional input toward your solution. He guided my choices and answered questions by coordinating with the manufacturer, but also by relying on his experience as a working musician. He helped me formulate my new combination of shell depths and diameters after talking through various aspects of the build, sizes, finishes, and head choices. They've gained my trust."
"Sound Pure and it's predecessor Indoor Storm have been my go-to for all things drum-related for more than a decade.  Over that time I've spent many happy hours in the store, purchasing one kit (another to be ordered soon), several snare drums, several cymbals, and all manner of sticks, heads, and hardware.
Sound Pure is a welcome alternative to the predictability (and occasional sensory overload) of big box stores, but what keeps me coming back is the staff and the service. Most of my purchases have been based on the outstanding and invaluable advice of the resident drum guy, Barry Knain. Barry is super-knowledgeable, and he seems to know my gear and tastes better than I do. He has regularly and reliably steered me towards gear he thought I would like and, just as importantly, steered me away from gear I would not like. On numerous occasions Barry has gone beyond the call of duty, hunting down information that is not available on the web, or contacting company reps with questions on my behalf. This devotion to customer satisfaction, before and after purchase, speaks volumes about the store." 
"I buy all my drum equipment from Sound Pure and let me tell you, they are the best!! ..Very professional… Barry knows more about drums than anybody I've ever dealt with. I tell him what I'm looking for and he gives me options. When I show up at the store, the drums are tuned and ready for me to test…..Who else does this, or has customer service like that?  ……No one!!!! I would recommend you try them and see for yourself. My guitar friends feel the same way about Eddie's knowledge as well, they are great!!"